Presentations and Workshops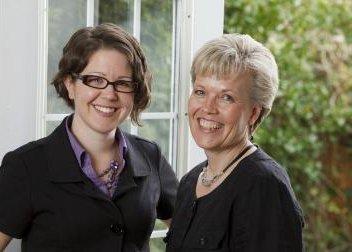 Jen Wright & Sonja Bristow
Comments from Attendees:
"I expected it to be faith building and encouraging and it was definitely that . . . plus it was insightful and thought provoking"
"I was impressed with both of you presenting. The energy you both possessed was inspiring and fresh."
"Well thought out!!!! Well presented!!!! Humor was awesome!!!!"
"Funny, engaging, insightful... inspiring, and refreshing!"
"I do not get very enthused about women's conferences although I have been to a number over the years.... I wouldn't go so far as to say I am more motivated to attend women's conferences now, but....I would be motivated to attend yours!"
"I laughed till I cried and cried till I laughed. It was healing."
"I was pleased with the information especially the way it was presented with light heartedness, but yet reality facts."

"I've paid WAY more for WAY less! It was very much worth the investment of time and energy and resources!"

Dynamic Life offers presentations, workshops, and seminars on a variety of wellness topics. Each presentation may include innovative teaching, creative interaction, insight through story and experience, imparting of helpful resources, empowering techniques and tools in an engaging, authentic and oft-humorous way.
Topics Include:
Made Well: Body, Mind, Soul, & Spirit



Power of Vulnerability & whole-hearted living

Sexuality and Connection

[Rest]ore: Principles for holistic rest

Seasons of Change: the art of transition

Grief & Loss

Life on purpose: Intentional growth vs. decay

The Brain Matters: health and vitality for your gray matter

What's in your head? - The power of thoughts

Body Image: What are you hungry for?

AND other topics of health, wellness and holistic living based on the needs of your group!
"Funny,
engaging,
insightful...
inspiring,
Format Options:
Presentations and Workshops can be offered as 1 hour, 2 hour, day-long, or weekend; day or evening; weekly or intensive.
Cost:

We aim to keep events affordable and yet worth investment. There are several factors that affect the cost (travel, length, etc.) and we can best serve you if you let us know what your interests are.
Contact us for a quote and we will be happy to assess options!
"I laughed till I cried and cried till I laughed. It was healing."